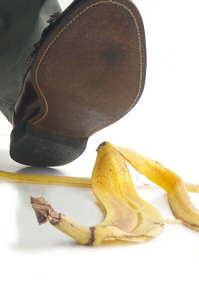 If you have suffered serious injuries in a slip and fall accident in the state of Floriida, Premise Liability Attorney Daniel Young. may be able to help you. Premises liability laws in the State of Florida are based upon the legal concept of negligence. This means if someone acted, or failed to act, in a manner that contributed to your injuries, that person or company may be liable for your injuries.
Premise liability laws help to determine who is responsible for accidents that take place when a person slips and falls or is injured on someone else's property.
Who is responsible in a premise liability case?
Establishing who is at fault in a slip and fall accident is not always a simple process. Laws that fall under this category vary from state to state and local jurisdiction to jurisdiction. In order for a slip and fall victim to hold a property owner liable for an incident, the victim will have to prove the following in order to have a clear cut premises liability case:
•That the property owner was responsible for unsafe condition and the subsequent slip and fall accident.
•That the property owner was aware of the condition of the property but did not try to correct it .
•That the property owner knew or should have known about the danger, since a "reasonable" person would have found the problem and taken steps to prevent injuries caused by the slip and fall accident.
Causes of Slip and Fall Accidents
Thousands of injuries occur each year due to slip and fall accidents. Someone stumbling over a loose brick, falling down a staircase, or falling down an uncovered manhole can easily wind up in the hospital with injuries requiring long-term recovery time. No one knows whether a fall due to a slippery floor in a supermarket will lead to a sprained ankle or a broken leg. It is always wise, therefore, for property owners to take safety precautions and take whatever steps necessary to prevent accidents.
There are, of course, certain situations where exceptions to the general slip and fall and premises liability rules come into play. These might include situations where trespassers come on to property without the permission of the owners and then incur injuries as a result of disregarding trespassing laws. Other examples could also include burglars and uninvited guests coming onto the property. Children, however, are an exception this is rule, since the law recognizes that children often do not perceive danger as well as adults. Property owners must take steps to ensure the safety of children, whether they have permission to be on the premises or not. In the case of employees, there are workers' compensation laws in place that hold employers liable for most on-the-job injuries, including those that result from a slip and fall accident. The amount of damages that the injured person can collect is limited, however.
Bone Injuries and Fractures
Slip and fall accidents frequently cause broken bones and multiple fracture injuries including:
•Ankle fractures
•Clavicle fractures
•Femur fractures
•Fibula fractures
•Glenoid fractures
•Hip fractures
•Humerus fractures
•Linear skull fractures
•L4 vertebrae fractures
•L5 vertebrae fractures
•Nasal fractures
•Patella fractures
•Rib fractures
•Scapula fractures
•Sternum fractures
•Tibia fractures
•Ulna fractures.
Slip and fall accidents may also leave a victim with brain injuries, spinal cord injuries, burn injuries, or other catastrophic injuries.
Slip and Fall Accidents on Government Property
When slip and fall accidents happen on government property, for example public parks, the federal or Florida state government may bear the legal responsibility for personal injuries incurred on the premises. Cases against the government may be covered by either the Federal Tort Claims Act or by other similar state tort claims acts. Cases against government agencies must be brought within strict time limits.
Free Consultations
If you or a someone close to you have suffered serious injuries in a slip and fall accident, or if you have questions about your legal rights following a slip and fall accident, a Florida premises liability lawyer at can help you determine if you have a case. To speak directly with Slip and fall Lawyer Daniel Young about your case, call 954-763-0996.
At Daniel L. Young, P.A., we handle all of our premises liability cases on a contingency fee basis. This means that you pay nothing unless we win your case.