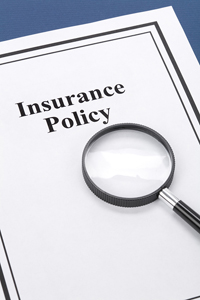 Insurance policies play a very important role after a motor vehicle accident, slip and fall accident or dog attack. Compensation for your accident can cover not only the damage to your vehicle, but more importantly, your medical expenses, lost earnings and income, pain and suffering, and other expenses related to your accident. If you have been seriously injured, the compensation you receive for your injuries can affect the quality of the rest of your life. A meaningful settlement can ultimately mean you receive the medical care you need free of financial stress and worry. Let Insurance Settlement Attorney Daniel Young help you today. Call 954-763-0996.
After an accident, the process of handling insurance claim can seem simple enough. The insurance claims representative is trained to be friendly and accommodating, but you must remember that the representative is also trained to protect the bottom line of the insurance company and ultimately pay you as little as possible for your claim. Although the insurance adjuster may quickly offer you a settlement, you may actually be entitled to two times, three times, or even more than that initial settlement offer. You should never accept any settlement before you know the full extent of your injuries and how they will affect you.
The Recorded Statement
After an accident, the insurance company of the at-fault party will likely call you and request you give a recorded statement over the phone. Although the request may seem harmless, and the representative may say they "just need to get a few details," insurance adjusters are trained to ask questions that in effect reduce the amount of money they need to pay you for your injuries. Once you've made a recorded statement, you cannot change it. The adjuster will play on your lack of preparation and will ask you dozens of detailed questions about the accident, trying to find an area of weakness. Some of the questions may be inappropriate or completely irrelevant to your claim.  Just a few examples of questions that may be asked in a recorded statement following a car accident include:
Where did the accident occur?
What was the state posted speed limit in the area where the accident occurred?
What speed were you travelling?
How do you know how fast you were travelling?
What did the insured party do that caused the accident?
How could the insured have avoided the accident?
What were the weather conditions at the time the accident occurred?
What were the direction and length of the skid marks?
What happened to you at the impact?
Did you lose consciousness after the accident?
What did you feel when you were being struck?
How did you feel after the accident?
Was anyone else injured?
What was the doctor's prognosis of your injuries?
What can you not do today that you could do before the accident?
Did you miss time from work following the accident?
What were your lost wages?
What is your annual salary?
What is your condition today?
Before giving any statement to the insurance company, always speak with an attorney first, even if only for a consultation. You may not need to give any statement at all.
Know and Protect Your Rights
An experienced attorney can help you recover the maximum, full and fair compensation you are entitled to for your injuries or the wrongful death of a loved one. Call Florida accident and injury attorney Daniel Young for a free consultation to evaluate your situation and determine your legal rights, options and responsibilities. In your free consultation, an Daniel young will give you an honest opinion of the value of your claim, answer any questions about your case, and educate you about your best course of action going forward. If you do not need an attorney, we will tell you why and give you advice for how to best handle the claim on your own.
About Daniel L. Young, P.A.
We only represent plaintiffs (the injured victim) and have never represented corporations or insurance companies. Call insurance Settlement Attorney Daniel Young Today at 954-763-0996.