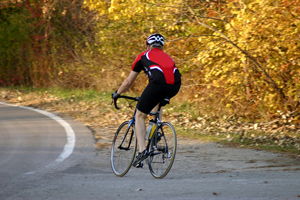 Bicycle riding is both a popular recreational activity and means of transportation in Florida.  Bicycle Accident Lawyer Daniel Young understands the risks that cyclists face on busy roads and in dangerous intersections.
Causes of Bicycle Accidents
A number of causes can contribute to Florida cycling accidents. Cyclists often share the road with other vehicles and pedestrians, which presents the opportunity for collisions and accidents. Sometimes cyclists ride in large groups, which can lead to accidents involving other bicyclists. Each year, hundreds of bicyclists are killed in accidents that are caused by negligent automobile drivers who are distracted or do not see them. Many bicycle accidents also happen when a cyclist loses control of his bike and crashes into a stationary object such as a pole, curb or median. Injuries can also be caused by defective bicycle parts or unsafe riding conditions.  If you have been injured in a bicycle accident, do not dispose of the bicycle. A Florida bicycle accident attorney can help you determine the cause of the accident and who is responsible.
Intersection Bicycle Accidents
Bicycle accidents can occur anywhere on the road, but often happen in intersections.  Intersections are where a bicyclist is the most at risk of being struck by a car.  A bicyclist is generally considered to be a "vehicle" and must follow the basic traffic laws in the Florida Vehicle Code.  Cyclists must ride with the flow of traffic, stop at stop signs, and yield appropriately. Children unfamiliar with road laws are especially at risk for accidents.
Bicycle Accident Injuries
In any accident with a car, bus, or truck, a cyclist is vulnerable to serious injury or death. Especially if the cyclist was not wearing a helmet, or if the helmet was not fastened properly, a bicycle rider is at a high risk for head injuries, including skull fractures and traumatic brain injuries. 70% of bicycle accidents that result in fatalities are due to a head injury. A cyclist thrown from a bike may suffer spinal cord injuries, neck injuries or back injuries. Other injuries may include loss of limbs, multiple fracture injuries, or burn injuries. Parts of the bicycle, like the spokes, seat or handlebars, can also contribute to serious personal injuries.
Compensation for Bicycle Accident Injuries
If somebody else caused you to be seriously injured in a Florida bike crash, you may be entitled to damages for your lost wages, your medical bills and pain and suffering. At Daniel L. Young, PA, a Florida bike accident lawyer can help you understand your legal options after an accident.
Free Bicycle Accident Injury Consultation
If you have been injured or if a member of your family has died in a Florida bicycle accident, call Daniel Young for a consultation at (954)763-0996. An attorney can meet you at your, home, hospital or our office.  All cases are handled on a contingency basis — we never charge a fee unless we win. We are available to take your call 24 hours a day.